My Guide to Eating in Austin

I've been living in Austin for two months now, and in that time, I've consumed a lot of food. After all, Austin is home to an incredible food scene — from BBQ joints to food trucks to healthy, organic outlets to (of course) Mexican restaurants. As more and more people move to Austin (close to 160 a day at last count) and the city balloons with a more diverse population, Austin has expanded its dining fare to include more varied and higher-quality food.
Part of the reason Austin's food tastes so delicious is because of the locally-sourced ingredients. As the birthplace of Whole Foods, Austin has always embraced organic food, and it was one of the frontrunners in the farm-to-table movement.
Moreover, to meet the needs of the expanding population, nearly 200 new food trucks and restaurants open up each year! With so many eateries opening all the time, you're going to get hugely increased variety, selection, and quality.
While I still have much more exploring to do and food to eat, I want to share some of my favorite places to eat in the city for your next visit:
Asian

If there is anything I dislike about Austin, it would be the lack of good Asian cuisine, as it is my favorite in the world. When it comes to Asian food, it has a lot of those fusion joints that serve Chinese, Thai, sushi, and Korean all at once. Most are simply acceptable; they won't blow you away. However, there are a few restaurants worth eating at:
Bar Chi (206 Colorado St., (512) 382-5557, www.barchiaustin.com) – Decent sushi but an unbelievably affordable happy hour (5-7pm each day). My friends and I come here because it satisfies the sushi craving on the cheap!
East Side King (1618 1/2 E. 6th S., (512) 407-8166, www.eskaustin.com) – Located in The Liberty Bar (also a kick-ass bar), this is best Asian-Thai fusion food truck in the city! Be sure to get the pork buns, tori meshi, or the chicken buns.
Lulu B's (3632 S. Congress Ave., (512) 921-4828, www.facebook.com/LuLuBsAustin) – I found this place thanks to Jodi from Legal Nomads. I'm not the Vietnamese food expert she is, but this place was delectable. I've only had the beef pho, but it was a flavorful broth.
Piranha (207 San Jacinto Blvd. #202, (512) 473-8775, www.piranhakillersushi.com/piranha-locations/austin) – My all-around favorite sushi joint. The sushi here gives you the most value for your money, and it's always fresh and of high quality. I particularly love their yellowtail.
Thai-Khun (1816 E. 6th St., (512) 407-8166, eskaustin.com/v2/thaikun) – As a Thai food snob (ever since I lived in Thailand), I'm always disappointed at Thai restaurants because I never think the food is as breathtaking as in Thailand. This place in Austin is the closest to true Thai food that I've found so far.
Uchi (801 S. Lamar, (512) 916-4808, uchiaustin.com) – The fanciest high-end sushi restaurant in the city. They also have a sister restaurant called Uchiko. Both live up to their reputations and are good date places. Reservations recommended!
Wu Cho (500 W. 5th St. #168, (512) 476-2469, wuchowaustin.com) – This is one of the best Chinese restaurants in the city. They serve a very popular dim sum brunch on Sundays. Be sure to come early as it gets packed during dinnertime and Sunday brunch, and the wait for a table can be up to an hour.
Americana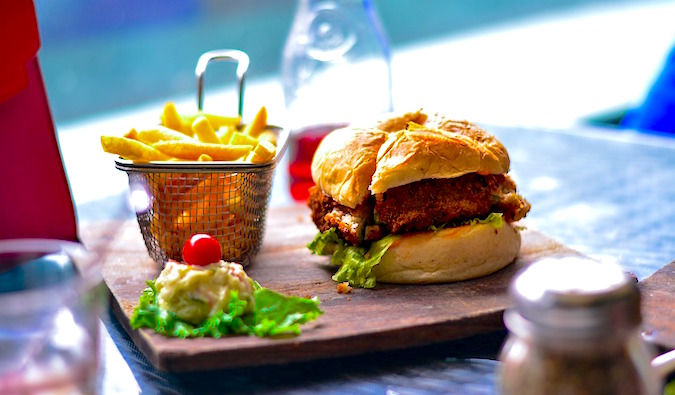 If there is one thing Austin does well, it's "Americana" food. I define that as a fusion of multiple cuisines: burgers, fries, steaks, seafood, and the like.
Launderette (2115 Holly St., (512) 382-1599, launderetteaustin.com) – Located in an old laundry store, this restaurant is one of the hottest spots in town and serves an amazing menu of Americana and seafood, as well as a decent selection of wine. Some of my favorite dishes include crab toast, burrata, okra, brussels sprouts, and grilled octopus. If you're coming for dinner, come early, as it fills up fast.
Truluck (400 Colorado St., (512) 482-9000, trulucks.com) – This is my favorite steak restaurant because it's one of the few places where you can also get fresh seafood (crab, oysters, lobster). It's not cheap, but if you want a upscale steak house, try this.
Péché (208 W. 4th St., (512) 494-4011, www.pecheaustin.com) – A New Orleans–inspired restaurant serving Bayou food, and it has a very friendly staff, tasty cocktails, and an extensive whiskey list.
BBQ

Austin is world-famous for its BBQ, and you can't walk down the street without running into a restaurant that serves it. The title for Austin's best BBQ is hotly contested among fans, and I don't claim to know who's right — to me, BBQ is either good or really damn good. But these are among my favorites:
Franklin Barbecue (900 E. 11th St., (512) 653-1187, franklinbarbecue.com) – This is considered the top of the top of the top BBQ joints in the country. Even the president ate here! It's open from 11am until they run out of food (usually in a few hours). Lines start at 8am, so it's best to go midweek in summer when most people don't want to wait in that line and you don't need to line up until 9 or 10am.
La Barbecue (1906 E. Cesar Chavez St., (512) 605-9696, www.labarbecue.com) – BBQ is a matter of perspective. A lot of people say Franklin's is the best, but La Barbecue is #1 to me. It opens at 11am. Expect two-hour waits during lunchtime, so get here early.
Iron Works BBQ (100 Red River St., (512) 478-4855, ironworksbbq.com) – Located downtown, this restaurant serves above-average BBQ with large portions and hearty helpings of side dishes. I come here for the lunch brisket plate.
Micklethwait Craft Meats (1309 Rosewood Ave., (512) 791-5961, craftmeatsaustin.com) – An awesome food truck on the east side of the city. I'm in love with its ribs, brisket, and BBQ sauce. While it's very popular, the line here isn't as long as the other places listed.
Tacos

Tacos are serious business in this city. I have yet to fully experience much of the wonder that Austin has to offer on this front, but I do like a few of the big names:
Veracruz (1704 E. Cesar Chavez St., (512) 981-1760, veracruztacos.com) – The best food truck in town (conveniently located across the street from my hostel). It makes wonderful breakfast tacos, and the migas was voted #1 in the country. There is never really a line, but service is slow.
Torchy's (multiple locations, torchystacos.com/in/austin) – World famous (and another spot where the president ate), this taco place has multiple locations in the city. It lives up to all the hype! I'm a big fan of the fried avocado and trailer park tacos. Every location is always packed, so expect a wait, especially on the weekends. The food here is pretty spicy, too.
Taco Deli (multiple locations, www.tacodeli.com) – Another delicious eatery serving mouth watering breakfast tacos.
Mexican & Tex-Mex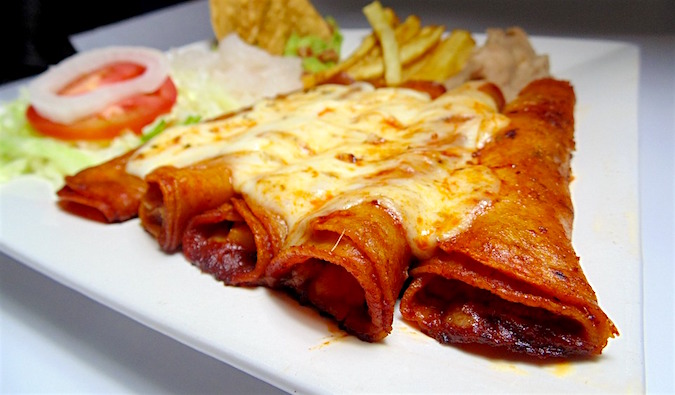 Like tacos, there are a lot of world-class Mexican and Tex-Mex restaurants in Austin! There are plenty of people who can dissect their finer points — I am not one of those people, however. But these establishments will never steer you wrong:
Vivo (6406 N. Interstate Highway 35, (512) 407-8302, vivoaustin.com) – Solid Mexican with huge portions, spicy dishes, and friendly staff.
Benji's (716 W. 6th St., (512) 476-8226, benjiscantina.com) – Amazing margaritas, huge portions, and an outdoor patio area. Their incredible guacamole is made tableside.
Tamale House East (1707 E. 6th St., (512) 495-9504, www.facebook.com/tamalehouse.east) – Located in East Austin, this hole-in-the-wall is only open for breakfast or lunch. It's famous for its tacos, but like the name suggests, get the tamales!
Indian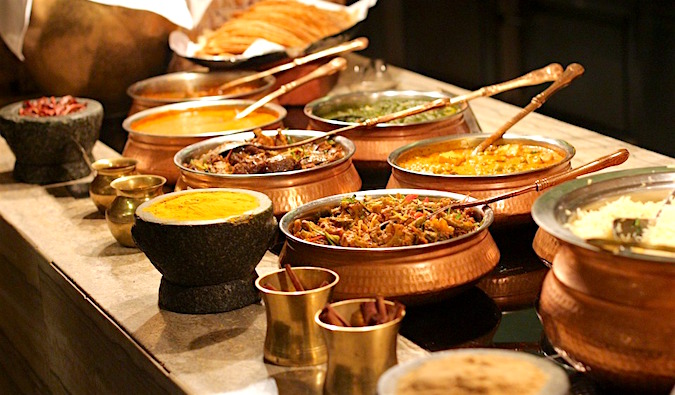 There isn't a lot of good Indian food in town, mostly because there just isn't a lot of good Asian food in general. I'm not an Indian food expert, but these two are my favorites:
The Clay Pit (1601 Guadalupe St., (512) 322-5131, claypit.com) – I order from this spot through UberEats all the time since it often has fast delivery. I love the samosas and jasmine rice, and their naan is just perfect!
Masala Dhaba (75 Rainey St., (512) 665-6513) – A higher-end, sit-down restaurant with a flavorful chicken tikka masala!
Miscellaneous

Some other of my favorite must-eats:
P. Terry's (multiple locations, pterrys.com) – This is the best burger bar in the city. It's delicious and cheap (you can get a burger, fries, and a drink for $6 USD), with filling portions. This is one of my all-time favorite spots in the city, and since it's close to my house, I tend to eat here too often!
The Onion (408 Brazos St., (512) 476-6466, onionbaby.com) – Coming from NYC, I'm spoiled for pizza — you can buy tasty dollar slices anywhere you go there. That's not the case in Austin: slices are around $4 USD and not as good, but if there is one pizza place I do like, it's this one.
Gus's Fried Chicken (117 San Jacinto, (512) 474-4877, gusfriedchicken.com/austin-texas-location) – The sister restaurant to the famous location in Memphis, this place has juicy, moist chicken with battered skin that bursts with flavor in your mouth. It's freaking amazing! They also serve mouthwatering fried green tomatoes and pickles.
Leaf (115 W. 6th St., (512) 474-5323, leafsalad.com) – This new lunchtime salad place is incredible (also the line is long). Its gigantic salad bar has anything and everything you could ever want to put in a salad. It's one of my favorite places for a healthy meal in Austin.
True Kitchen (222 West Ave. #HR100, (512) 777-2430, truefoodkitchen.com) – This new restaurant is incredibly popular with people after work. All its food is natural and organic. You'll find healthy wraps, salad bowls, sandwiches, and fresh and flavorful seafood, as well as an incredible selection of wine and cocktails.
Austin's growing food scene means that there are still plenty of places I haven't eaten at yet — and a few locations I probably left out, as a result — but during your visit to Austin, you'll find yourself with more than enough choices by using this list as your guide!
Photo Credit: 1, 2, 4, 5, 8
The post My Guide to Eating in Austin appeared first on Nomadic Matt's Travel Site.